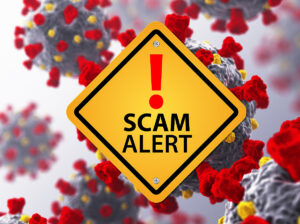 Scammers are like gulls at the beach, or bugs at a picnic. Whenever there is a tasty morsel to be stolen, these predators start to circle. With millions of stimulus checks being distributed, that means the stimulus scams are going to be out in force.
This money is meant to boost us all up, as individuals and as a country. It is our civic duty to use this money as it was intended, and not put it into the hands of scammers.
Scammers are crooks and stimulus scams are real. Here is what to look out for!
Know Your Stimulus Status
By using the IRS website you can check the status of your stimulus payment. Find it on the official site. You don't need to set up an account, just know your personal and tax information so they can verify it is really you.
The biggest tool in the arsenal of the scammer is ignorance. Ignorance does not mean being stupid, but simply that you don't have all the right information.
By knowing where your check is, and when it will hit your account, you take much of the power away from the scammers.
Red Flags for Stimulus Scams
The stimulus checks are a direct transaction between you and the IRS. There is no middle man, and no one else involved in the process.
The ONLY information about stimulus money comes directly from them. Here is the most important part to remember – the IRS WILL NEVER CONTACT YOU ABOUT THE PAYMENT.
If you have a question or a problem, then you must contact the IRS.
Anyone contacting you claiming to be with the IRS, or affiliated in any way with your stimulus payment, is scamming you. Anyone! By phone call, email, text message, or through social media, ANYONE who tries to talk you about your money is probably a scammer.
Be Careful!
These are strange times, and many people are trapped inside, and cut off from friends and family, and get lonely.
Seniors in particular may be more vulnerable than ever to stimulus scams. Please share this information with your loved ones so we can all stay safe and make it through this!