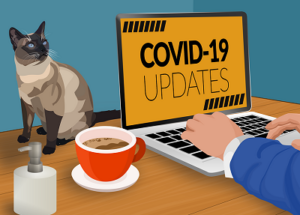 Although this is a lending company, and this blog is all about the benefits of installment loans, we feel that some things are more important. Out of the love and admiration we have for this country, and our fellow Americans, we wanted to set business aside for a moment and talk about social distancing.


Social distancing is something you hear a lot about these days, and yet many people still aren't getting why it is so important.
It's Not About You
If everyone follows the simple rules of social distancing for a while (the virus sets the timeline, not us) we can beat COVID 19 like we beat every other one of our enemies. The problem is that most people don't consider themselves part of "everyone."
People will think "if everyone ELSE does it, we will be okay."
You ARE part of everyone else! We all are.
The key to social distancing is remembering that it isn't about you. Perhaps you are young and healthy, or simply not worried about getting sick. That's terrific!
But it isn't about you. It's about every one of us doing our part to protect the very young, the very old, the infirm, weakened, or already sick. This isn't about any one person, it's about America. It's about the World. It's about humanity.
And it doesn't require a huge sacrifice!
It just means practicing social distancing.
We Are Open for Business… at a Distance
We are fortunate to be in one of the few business that can keep operating and full capacity to meet your needs during this unusual time.
Our installment loans are done 100% remotely, through a computer, tablet, or smartphone. There is never any face to face meeting, nor any physical exchange of documents or money.
Everything is digital, everything is online, everything is safe.
Just because you are practicing social distancing doesn't mean your life stops.
When you need a quick influx of cash, contact NSL for rapid service and funds placed directly into your account!