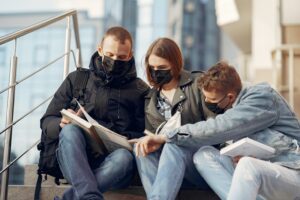 There is a lot of conflicting information these days, and it can be hard to figure out which "experts" are correct. Just to be safe, it's smart to keep wearing a mask and practice social distancing. Since banks are closed and everyone looks like a robber, it must be a lot harder to find personal loans, right?
Not at all! Be safe, wear a mask, social distance… and still get the money you need!
Personal Loans from the Comfort of Home
Going out in public has never been more anxiety-inducing. Between viruses and social change, it seems very chaotic right now.
Not to mention that cash is one of the most disgusting, germ-laden things you can touch!
When you use National Small Loan, you can apply for personal loans without every leaving the house. In fact, the entire process is done online and over the phone. No faxing, no contact with people, no touching of money.
You apply online, you sign the contact online, and you get the funds placed directly into your account.
100% safe. 100% virus free. Just because society is falling apart doesn't mean you have to put your financial needs aside.
What We Have to Offer
While some business have to scramble to change the way they treat their customers, we do not.
NSL has been providing safe, secure personal loans with locked-in rates and convenient installment payments for over 5 years. We didn't need to change anything at all, because we have never strayed from our mission statement — to bring loans to the people who the big banks don't want to help.
You do not need a membership, or to pay an application fee. Your credit score does not matter, not does it matter how much you make at your job.
Anyone with an income and a bank account can — and should — apply right now the personal loans you have been waiting for