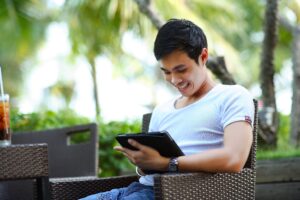 Since the advent of the online loan, the process of borrowing money has become more streamlined and convenient then ever before.
You know how old folks say things like "back in my day we had to walk to school uphill, in the snow, for 8 miles"?
Well now the old folks will tell the younger generations "back in my day we had to drive all the way to the bank, stand in line, fill out paperwork, and then go back to the bank again later just to see if we got loan approval."
Like some sort of horror story!
Thanks to the online loan, trudging uphill through the snow to get your money is no longer an issue. You can now apply for an online loan, sign the contract, and receive funds all through your smartphone.
The Convenience of the Online Loan
Technology makes the world a smaller place. So small it can now fit into the palm of your hand. The internet not only connects us all to each other, but also to every book and song and movie and scientific theory and historical event.
So why shouldn't it also put loans in the palm of your hand?
Now no matter where you are, or what time it is, you can apply for a loan. Our loan experts will respond to you immediately with your loan status, and then we complete the process without you ever having to leave the house or fill out a single piece of paperwork.
Never before has borrowing money been so easy!
The Speed of the Online Loan
Convenience and speed do not always go hand in hand. Since "you get what you pay for" often times the most convenient solution is far from the fastest.
Not the case with the NSL installment loan.
As soon as you complete the application, it is submitted for INSTANT consideration. Your loan application is accepted, immediately reviewed, and your approval status is emailed to you within a few moments. This way you know right away if your funds are on the way.
Once your loan is approved, we send you a contract to review and electronically sign. Once that final form is completed, the lending process concludes by the funds being electronically deposited into your checking or savings account.
Need Money? Get Money!
If you have an iPhone, an Android, a tablet, a laptop, or a desktop, then you have everything you need to get an installment loan from NSL.
It's the only online loan you will ever need.