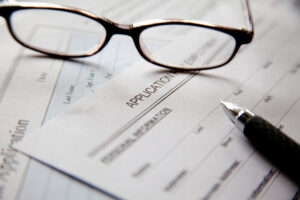 The old adage says "plan hard, fight easy." It means that the more you prepare for a task or challenge, the easier it will be to complete it. This applies to tests, sports, and even actual fights. It is also true of filling out a loan application.
Applications can be intimidating. That's why today this blog is going to review everything you need to know to fill out an online loan application quickly and easily.
Getting Prepared
If you have all the information you need at hand, you can complete an online loan application in a matter of minutes. We will go over every bit of information you need to have to apply. "Plan hard" by getting the info before you go online, and you can "fight easy" by filling out a speedy application.
Important to remember – just because you fill out the application DOES NOT MEAN you are agreeing to the loan. It's okay to apply to find out how much you can get. The lender will need to approve you and then send you a contract to digitally sign. Only then are you committed to the loan. So if you want to apply at several sites to see what kind of response you get, there is no harm to it.
Filling Out the Loan Application
Depending on the site you visit, there might be one, two, three, or even more pages to fill out. Don't be intimidated! No matter how much space it takes up, all lenders want basically the same information. It falls into three groups: Personal Information, Job Information, and Bank Information.
Personal Information:
This part you will know off the top of your head. You will need your legal name, date of birth, and general contact information – phone number, email address, and mailing address. You will also need your Social Security number and Driver's License number. Don't be alarmed, these are standard questions all lenders will ask.
Employment Information:
The lender will want to know where you work, so be ready with contact info (address, phone number) for your place of employment. Also find out the date you started working there, how much you make per paycheck, and what date you get paid.
Bank Information:
National Small Loan, like most online lenders, doesn't care about your credit score. But they will need to confirm you have an open and active bank account.
This not only shows that you have regular paychecks coming in, which is important, but also gives the money a place to go when you get approved. Which is VERY important.
So be ready with the name of your bank, and your routing and account numbers. Without those, you can't be approved.
Wrapping it Up
That's all you need to fill out the form! The next step will be reviewing the Terms and Conditions for the loan. It's very important you look over this document – it lays out the rules you are agreeing to. Never sign off on a loan unless you have read the fine print!
Once you are satisfied with the terms, all you need to do is digitally sign the contract, and that's it!
Want some practice? Try the little box in the upper right corner of your screen. You will quickly be a master of the online loan application. Best of luck with your approval!