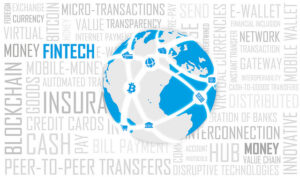 The future is now. The Big Banks have been on the way out for years now. Tired of red tape and over reliance on credit scores, independent lenders have been using technology to redefine the landscape of finance and lending. Fintech loans are the new king of the castle.
At first it was just payday loans. Pawn shops, title loans, and installment loans all found their way into the market. These "alternative lenders" offered smaller loan amounts, easier application and approval, and higher APR.
Technology is becoming more advanced, and global communication is becoming more common. Now these so-called "alternative lenders" are no longer the alternative. People are turning to independent lenders and fintech loans more than the Big Banks.
Fintech Loans Take Over the Personal Loans Market
Recently during the Digital Lending and Investing Conference, a study was released showing how much demand for fintech loans has grown.
2010 – Fintech loans account for less than 1% of all personal loans
2012 – Fintech loans now make up about 4% of personal loans
2016 – Fintech loans now make up approximately 30% of personal loans
And now in the first half of 2017 that number has grown again to 32%. By comparison the Big Banks make up 29% of personal loans, and credit unions account for 24%.
As more businesses jump into the online loans market, these numbers will keep growing father and farther apart. Fintech evolves every year, both the systems and apps they use as well as how they connect with lenders and borrowers.
Fintech is truly the future of finance.
Will Fintech Loans Replace Payday Loans Next?
Before there were fintech loans, payday loans were really the only widely-available alternative to the banks. But they were always the source of political outrage due to their high interest rate and sometimes unethical collection practices.
These loans are still a hotly debated topic even today. But all of this ballyhoo may be for nothing, because fintech loans seem primed to make all other loans obsolete.
It's a massive market. Payday loans and other similar financial products are used by over 12 million Americans every year. The fintech companies think they can offer all of these millions of people a better deal. If they succeed, it will lower payments across the country, and put the payday industry out by the rubbish bin.
What Makes Them So Special?
By using cutting end data gathering techniques, fintech companies can pinpoint their best potential customers and make the first move. By uniquely customizing their services to each and every client, they can show all these borrowers how they offer a superior product.
Using search history and social media, fintech companies have re-invented the loan process. Unless the other arms of the finance industry evolve, they have no chance of ever catching up.