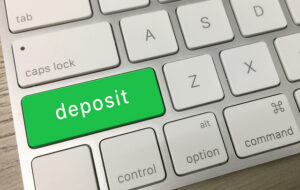 Gold is old hat, and cash is antiquated. In the electronic era, money can travel at the speed of light. Having cash in your hand feels nice, but it takes a lot of extra time to pick up the cash and then deposit it into your account. Direct deposit loans are the best – and fastest – way to do business.
Why wait? Get your funds instantly. With direct deposit loans the funds are placed directly into the bank account of your choice for immediate availability. You will never want to go back to the old ways.
Direct Deposit Loans and You
National Small Loan takes great pride in offering the best customer service and fastest turnaround times. We have also streamlined our application process! Now it takes less time than ever to submit your loan application. Our response to your request is virtually instantaneous!
First, visit our simple online loan application. Beyond the basic personal information, we just need you to answer a few questions about your employment and the bank that you use.
Within moments you will receive a notification of your loan status. Our loan experts will send you an email confirming the amount of your loan. Rarely, if ever, do we require any additional information.
Once direct deposit loans have been approved, they show up in your account instantly. The funds are now yours to use as you choose!
A Direct Deposit Loan is the Fastest Way to Get Funds
There is nothing wrong with cash. Paper folding money will always hold a place in our hearts. We live in a time when most transactions are done by card or online transfer, so cash just represents another link in the chain.
Direct deposit loans are the shortest distance between two points, and they ensure that the funds you need get to you as fast as possible.
Trust National Small Loan for all of your direct deposit loan needs. Our entirely process is done online, and our application process quick and painless. There is never any faxing required!