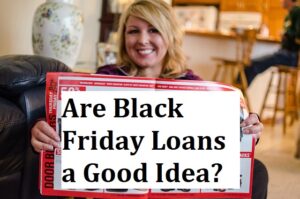 Black Friday is just a few days away! It's the biggest shopping day of the year, featuring the biggest sales and discounts of the year. People line up for hours on Thanksgiving day, just to be one of the first to enter the store and lay claim to some out of this world deals.
Some shoppers get all of their holiday shopping done in one fell swoop, saving big money and ending their shopping season with just a few hours of value-hunting.
What are your options if you want to borrow enough of a bankroll to get all your holiday gifts purchased while the sales are hot? You need a short-term loan, and you need the money in your pocket ASAP. Without driving around to different venues, or spending hours on end filling out paperwork at a bank, how can you get the budget you need in time to rack up the big savings?


There are several different kinds of online loans available to you, each with their own positives and negatives. Across the board, all of these loans have higher APR than a bank loan – but if you want money quickly, and without jumping through hoops, then paying a premium is to be expected.
Remember, no matter how much you need the money now, getting into debt that you can't pay off will only cost you in the long run. So do the research and find out which kind of credit or loan is right for you before signing a contract.
The holidays are a time to spend with your friends and family, not for dodging debt collectors. So be careful before getting into debt for Black Friday sales.
Options for Getting Black Friday Money Fast
Here is a quick breakdown of the most widely used types of short-term loans, to help you figure out your next step.
Car Title Loan – Use you car as collateral to back a quick and easy short-term loan. Get your money on the spot in some cases, and still drive away in your vehicle.
The downside? If you fall behind in payments, you lose the car… and still owe the money. In some cases, the loan is paid back and the borrower still loses the car.
Payday Loan – If you have a job and a bank account, chances are you qualify for a payday loan. Also called a cash advance, these loans are processed and paid out with lightning speed.
The downside? Payday loans are revolving credit, with no end in sight if you just make the minimum payments. A good lender will give you a clear path to paying it off. But some lenders are content with you remaining in debt for as long as possible. They are quick to get, but not so quick to pay off.
Installment Loan — In many ways, an online installment loan is similar to a payday loan. With one key difference: every borrower is given an exit strategy. Unlike a payday loan, an installment loan has a fixed number of payments, and a fixed end date.
The downside? Like all of these loans, it has a higher APR than a bank loan. But it won't kill your credit score, get your car repossessed, or keep you in debt forever.