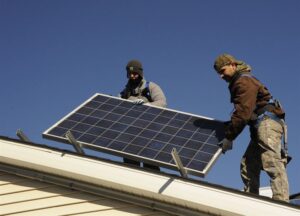 Residential solar power systems are more popular than ever. With the long-term savings and stability provided by solar panels, who wouldn't want them? For many, the cost can be prohibitive, and so solar loans have begun to trend.
Solar loans are exactly what they sound like – loans offered specifically for the purchase and installation of solar technology.
Third Party Solar Financing
Previously the only option available to all but the wealthy was "third party solar financing."
Due to the high cost of the technology, many people had to no option but to use third party financing. This system had no up front costs, because the consumer was not actually purchasing anything. Instead, a third party owns and maintains the solar equipment. The consumer pays the company, and gets the electricity.
This has worked for a lot of people… except that it usually means paying the third party instead of the utility company. So you are still paying someone for your electricity.
The Benefits of Solar Loans
Solar loans grew by 40% in 2019, and show no signs of slowing down.
Going green and becoming environmentally sensitive used to be seen as politically divisive, but no longer. Either to protect the environment, to save money long term, or to become more self reliant, solar power is the wave of the future.
As this technology continues to advance and grow, the demand for these loans will only increase.
Another area of solar to look out for is that of residential storage. The ability and capacity to store energy is booming, the market value expecting to double in 2020 and reach over $1 billion in value!
Although we do not currently offer solar loans, National Small Loan prides itself on bringing you insight and information on every kind of loan! If you need a small dollar loan, stay away from the payday lenders, and try the NSL installment loan.