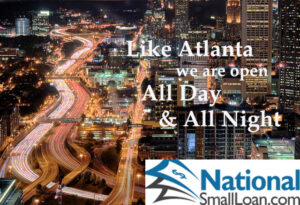 One of the original 13 colonies, the history of Georgia is the history of our nation. Not just the heart of the South, Georgia is really the heart of America. At National Small Loan, we salute the Peach State – Thank you for your business, because Georgia personal loans are leading the nation!
What are Georgia Personal Loans?
A personal loan is any kind of loan advanced to the borrower based on their credit, or ability to repay. It is also called an unsecured loan, because you are putting up no collateral on the loan, just your word. These loans are risky for the lender, and often charge higher interest than banks.


Before recently, anyone without credit was forced to take out a payday loan. Payday loans are hard to pay back, because the fees and interest keep piling onto your debt every single week.
Now in the state of Georgia personal loans have gotten a facelift you never need rely on payday loans again. The NSL installment loan is safer, more secure, and catered to your individual needs.
What Makes our Installment Loans Better?
An installment loan has a locked-down repayment schedule. Your interest never increases, no additional fees are added, and you get one simple payment to make a month. If you need a longer repayment time, don't worry – you can have up to 16 months to repay that loan.
If you don't need that much time, you can make extra payments, or simply pay off the entire loan early, with no penalties added!
We want to change the way you think of personal loans and make you the top priority.
The Home for Personal Loans in Georgia
From Atlanta to Macon, from Jekyll Island to Augusta, it is our great privilege to serve Georgia personal loans from state line to state line. If you live on the edge of the Okefenokee, or in the wilds of the Blue Ridge, we are open and waiting to help anyone with a phone or an internet connection!
Apply today, get approved today, and get money today! NSL is the new home for Georgia personal loans.