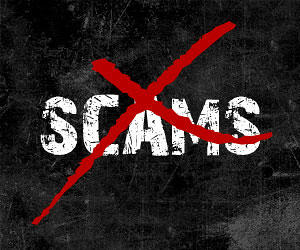 The internet has transformed the world of finance. It is now easier than ever to invest, diversify, manage, and borrow money, and all from the palm of your hand! With reward always comes risk, and in this case it means the risk of loan scams.
The world of online loans can be a minefield. If you don't know what to look for, your bank account might pay the price!
So how can you navigate around these expert scammers, and find the legit loan companies?
Fortunately, it's not as hard as you may think.
Secure Site
This first tip will take 90% of loan scams out of the picture immediately.
All you need to do is look for an HTTPS in the web address. As you may or may not be aware, all URLs start with HTTP.
Websites that have been verified by Google to be legitimate and have the proper online security start with HTTPS. That extra S means "Secure."
Going forward, never enter your personal information (for loans or anything else) into a website without that S!
Contact Info
If you cannot find contact information on a business website, most likely it is because the business doesn't want you to contact them.
But don't just check for a "contact us" page, take the extra step to actually contact that business! Call the phone number listed, or send them an email.
Loan scams thrive on appearing to be legit while avoiding a lot of key information. The most basic of all business info is how to contact them. If the website makes it difficult to do that, you need to find another website!
Certification or Licensing
America is a land of rules and regulations, which means not just anyone can start issuing loans. A legitimate lender will have the proper business licenses and lending certification, and will also display these things on their website.
Any respectable lender will be proud of their accreditation. If there is no such documentation posted, chances are the lender does not have it, indication the presence of loan scams.
A little bit of consideration will save you a lot of consternation! Rest assured, if you follow these three easy steps you can avoid loan scams.